Argyll
The west coast port of Oban is perhaps the best known town of this area and is the jumping off point for sailings to most of the Western Isles. It is a popular destination in itself, as a centre for touring the rest of this glorious area. Just a few miles to the north are lovely beaches at Benderloch and, to the south, the only 'Bridge over the Atlantic' and Seil Island.
Inland are the beauties of Loch Awe in the shadow of Cruachan mountain, the road to picturesque Inveraray, with its castle and historic jail on Loch Fyne, the Cowal peninsula with its several yachting havens and on down to Knapdale and the Mull of Kintyre with more lovely beaches at Machrihanish and Carradale.
A County with an Interesting History
Argyll is a county with an eventful and often turbulent history, evidence of which is still visible today. There are picturesque ruined castles such as Kilchurn in Loch Awe or Castle Stalker at Appin, which will be instantly familiar from countless souvenir calendars. It actually goes back much further still, almost 5,000 years in fact.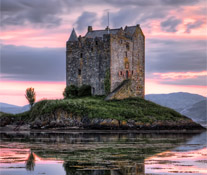 Those with an interest in such things will find a real treasure house at Kilmartin Glen, north of Lochgilphead where there are stone circles, cairns and burial mounds dating from prehistoric times. Nearby Dunadd is a rocky outcrop which was once an Iron Age fort and is believed to be the capital of the ancient Pictish kingdom of Dalriada.
The islands of Islay and Jura are also within the county. The former is famous for its distilleries and for its amazing birdlife, and therefore a mecca for whisky connoisseurs and 'twitchers' alike. In autumn in particular, it becomes a haven for many types of migratory geese, with huge flocks feeing in the fields and coastal meadows.
Jura, right next door, translates as 'The Island of Deer' and they are almost as thick on the ground there as their avian counterparts on Islay! With only one tiny settlement, it too has its own distillery. Closer to the mainland and easily accessible for a day visit, is little Gigha. It translates as 'God's island' and is home to the remarkable Achamore Gardens.
Quick Links to Argyll Areas
Appin | Garelochhead | Inveraray | Lismore | Loch Awe | Loch Etive | Lochgilphead | Mull of Kintyre | Oban | Onich | Strachur & Loch Fyne | Tarbert | Tayvallich