Loch Awe
Loch Awe is one of the largest lochs in Scotland at 26 miles long and is very popular for fishing. It is very picturesque, especially the northern end with the ruins of Kilchurn Castle. Quiet, single track roads lead down both of its sides and from these roads you will come across one of the prestigious hotels overlooking the loch.
Lots to See and Do on Your Doorstep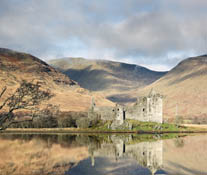 To the north, it is dominated by Ben Cruachan and where the loch flows into the brooding Pass of Brander, another attraction is the Cruachan Visitor Centre. From there you can take trips into the very heart of the mountain to see the hydro-electric station that has been constructed there.
The photogenic ruins of Kilchurn Castle sit on a small island at the head of Loch Awe. This 15th and 17th century ruin was the ancestral home of the Campbells of Glen Orchy and the village of Loch Awe itself is also a pretty little spot to visit.
It is famed for the hydroelectric Cruachan Power Station, built in 1965 within the mountain - also known as the Hollow Mountain. This technological marvel is buried one kilometre under the ground. You can take a guided tour and wonder at the sub-tropical plants that grow in this unusual atmosphere. Film fans may recognise the station, as it featured in the Bond film 'The World is Not Enough'.