Lochgilphead
The town lies at the head of Loch Gilp (an extension of Loch Fyne) and is situated beside the Crinan Canal. Sometimes referred to as 'the most beautiful short-cut in Britain', it provides boats with a navigable route between the Clyde and the Inner Hebrides. Its main attraction is the Tarbert Castle ruins.
Exploring the Beautiful Surrounding Countryside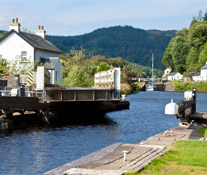 The Crinan Canal, which used to be used by many yachtsmen to avoid the long sail around Kintyre to the Firth of Clyde, is fascinating to watch the yachts navigate through. Also the views from the fishing village of Crinan, overlooking the sea towards Jura and many tiny islands, are stunning. The minor road on the eastern shore of Loch Sween lead to the ruins of the 11th century Castle Sween and 13th century Kilmory Knap Chapel, both well worth a visit.
Kilmartin Glen, about eight miles north of Lochgilphead, is a remarkable prehistoric site featuring a linear cemetry, Bronze-Age and Neolithic cairns, stone circles, standing stones and rock carvings. The Museum of Ancient Culture in Kilmartin provides interesting archaeological and landscape interpretation and artefacts with opportunities to try out some of the skills used at that period. The nearby peat bog and nature reserve of Moine Mhor is the site of the Iron Age fort of Dunadd.
Croabh Haven, about 10 miles north, is a purpose-built yacht marina and holiday village and Arduaine Gardens further north are famous for their rhododendrons and azaleas. The Arduaine area has stunning views across to the many Slate Islands where slate was quarried in the 19th century. The main islands are Seil (with its famous humpback Clachan Bridge which spans a narrow channel of the Atlantic), Easdale (which hosts the World Stone Skimming Championship) and Luing.