Sunart, Moidart & Ardnamurchan
As far west as you can go on the Scottish mainland you will find a truly unique sea water loch, Loch Sunart, which stretches for 20 miles into the magnificent highland landscape of rolling hills and ancient woodland.
Beautiful Scenery to Admire
Loch Sunart, a long, narrow inlet from the Atlantic Ocean, via the Sound of Mull, benefits from the warm west coast sea temperatures influenced by the Gulf Stream. The resulting oceanic microclimate makes the area surrounding the loch one of the only places in Europe where temperate rainforest still exists, offering an exceptionally rich habitat for a multitude of varied wildlife.
The area has an interesting history that can be witnessed as you explore even the most secluded of valleys. Hundreds of abandoned ruined buildings are scattered across this vast expanse of land, evidence of settlements long since vacated, possibly because of their extremely rural nature and the move to cars, rather than boats, as a primary mode of transport.
Currently the largest settlement in the area, Strontian, has a population of approximately 400, yet it has a heritage that rivals most large cities. This attractive village near the head of Loch Sunart has an element of the periodic table named after it.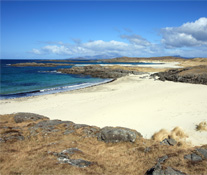 Strontium was first found in the lead mines just north of the settlement in 1790 and it was these mines that produced most of the lead shot which was used in the Napoleonic wars. Whether you're looking for your next Scottish adventure or just somewhere to relax and unwind, Loch Sunart is one hidden gem which is well worth a visit.
The area also encompasses Ardnamurchan, that wild and lovely peninsula stretching to the westernmost point of mainland Britain. Most easily reached via the Ardgour Ferry from Onich, Ardnamurchan is an escapist's paradise, with glorious hill and coastal scenery, plentiful and varied wildlife and at its most westernly point the beautiful beach at Sanna Bay.
Quick Links to Sunart, Moidart & Ardnamurchan Areas