Loch Sunart
On the south side of the Ardnamurchan Peninsula, on Scotland's beautiful west coast, is a truly exceptional inlet of water - Loch Sunart. There is excellent sea fishing from the shore of the loch, however, it is far enough off the usual tourist track to provide mile after mile of peace, tranquility and a real opportunity to get away from it all.
An Area Rich in Wildlife
The ancient, predominantly oak, woodlands that border the loch provide shelter to red squirrels, red and roe deer, pine marten and even the elusive Scottish wildcat. In the skies above soar magnificent predators, goshawk, golden eagles, sparrow hawk and even sea eagles, while at night short eared and tawny owls take their place. By the water's edge and on the small islands of Oronsay, Carna and Risga, seals bask in the sun, otters busy themselves fishing for dinner and all manner of nesting seabirds make their seasonal homes.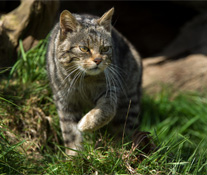 Beneath the placid surface of Loch Sunart, its waters are bustling with an amazing selection of sea life you would normally envisage finding in the shallow turquoise waters of a tropical island. Amongst the striking marine reefs, which sprawl across the bottom of the loch, hide crayfish, lobsters, scallops, brittlestars, pipefish and unusual looking sea hares.
The now critically endangered spurdog glide silently past, like miniature sharks. Colourful northern feather stars dance gracefully across the loch-bed, while eye-catching sunstars cling to underwater rock formations- a delicate and unspoilt aquatic wonderland. Loch Sunart and the surrounding area is not only a haven for wildlife.