Dalbeattie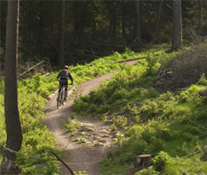 The Dalbeattie trails are to be found between Dumfries and Castle Douglas at the junction of the A711 and the A710. The trail head is just over a kilometre south of Dalbeattie, at Richorn.
There are no large hills and the open, coastal setting is quite a contrast to the forest trails elsewhere. Most of the trails are on granite rock.
The Ironhash Trail offers entry-level biking mainly on tracks, there is also a red-graded Hardrock Rail while the black graded sections here guarantee maximum thrills for more experienced riders and those looking for a bit more of an adrenalin rush.
Sleeps: 2
Bedrooms: 1
Pets: Yes (2)
Changeover Day:
Sat



Near New Abbey, Kirkcudbrightshire
Sleeps: 4/8
Bedrooms: 4
Pets: No
Changeover Day:
Sat



Sleeps: 8/10
Bedrooms: 4
Pets: Yes (3)
Changeover Day:
Sat



More than one promotion available.