Innerleithen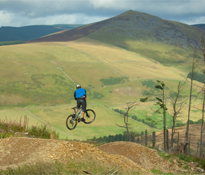 A few miles south of Glentress, Innerleithen is known for its outstanding downhill routes and is suited for more experienced riders.
Innerleithen offers a formidable series of tracks – The Make or Brake, Cresta, Gold and Matador are steeped in mountain bike history making them favourites in the international Endurance and Downhill race calendars. The tracks set off from the top of Plora Rig and have been built to include an eclectic mix of light rooted sections, jumps, berms and large drops.
There is a large Forestry Commission run car park at the foot of the trails offering picnic facilities. There are two mountain bike shops in Innerleithen that offer bike hire and repair services, as well as maps of all the Innerleithen tracks.