Kirroughtree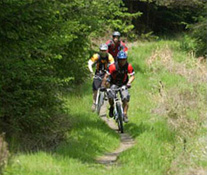 Kirroughtree is perhaps the most family friendly of the trails, with a great range of trails, a kids' play area and seasonal café.
About 5 km from Newton Stewart it offers trails of all colour grades. The Bargaly Wood Trail, for example covers a mix of minor public roads, wide tracks and a section of easy singletracks.
At the other end of the scale you can test your nerve on the black Black Craigs route (which adds 14 km to the red route) with slabs and enormous ridges of exposed granite linked by boulder causeways. Not for the faint hearted!