Newcastleton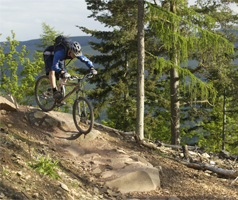 Situated close to the Border with England, the trails here tend to be somewhat shorter than at most of the other 7stanes.
That's not to say they don't present a challenge, however, with a 0.4km Skills Area where you can practise your skills over testing terrain before setting out on the other routes. The 9.7km Blue Route is a good starting point for beginners and children as it is fairly gentle with some fun descents.
The 16km Red Route is a great ride for experienced riders, with fast, narrow singletrack clinging to the side of the hill and crossing bridges and boardwalks to really get the adrenaline pumping.
Bentpath, near Langholm, Dumfriesshire
Sleeps: 4
Bedrooms: 2
Pets: Yes (1)
Changeover Day:
Fri




Near Hawick, Scottish Borders
Sleeps: 4
Bedrooms: 2
Pets: Yes (3)
Changeover Day:
Sat





More than one promotion available.
Near Newcastleton, Scottish Borders
Sleeps: 6/10
Bedrooms: 5
Pets: Yes (3)
Changeover Day:
Fri