Cottages with the Bow-Wow Factor
Holidaymakers who can't bear to be parted from their dogs should check out the latest addition to our portfolio – Glentress Cottage, a stylish four bedroom, self catering cottage right next to Glentress Forest in the Scottish Borders.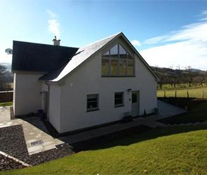 Located amongst some of the UK's most glorious scenery, close to the town of Peebles and less than an hour from Edinburgh, it has walks galore so four-legged-friends can scamper to their hearts' content, an enclosed garden so they can't escape and an open fire for them to curl up beside at the end of a fun-filled day.
Our team of inspectors have sniffed out dozens of top quality dog-friendly self catering properties in beautiful locations throughout Scotland. Over 70% of our cottages welcome man's best friend so there's lots of choice ranging from cosy beach cabins by the sea that are perfect for digging or practicing doggie paddle, to cottages in the hills where visitors and their furry friends can walk for hours and experience some of Scotland's majestic scenery.
Unique Cottages – Top for Dogs
Our cottage inspectors have picked out five of their favourite dog-friendly cottages from our portfolio: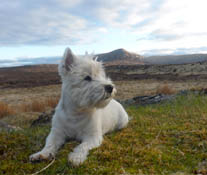 1. Milton Steading, Tomintoul, Speyside
Welcoming up to three dogs, Milton Steading is a beautiful farm building conversion located within the Cairngorms National Park that has miles of lovely walks right on the doorstep. Sleeping up to 10 people it is a pet-friendly, family-friendly delight with polished wood flooring, a huge kitchen plus a dining area with enough room to hold a small ceilidh.
2. Fortingall Stables, Perthshire
Fortingall Stables is situated just a few yards from the Fortingall Yew, a tree that is said to be the oldest living thing in Europe. A location between two National Parks means there are woodland, hill and riverside walks aplenty here so there's ample space for dogs to romp, plus attractions galore for the rest of the family. The home sleeps six people in fabulous style, thanks to the interior designer owner.
3. Knockenhooley Cottage, Lower Breakish, Isle of Skye
Knockenhooley Cottage is tucked away right on the coast in the south east of the beautiful Isle of Skye. Set well back from the road it welcomes 6 people and up to three dogs who will love running and playing in its large enclosed garden. The quiet surrounding lanes are also ideal when it is time for walkies and there is a cosy wood-burning stove for everyone to snuggle up in front of after a busy day of exploring.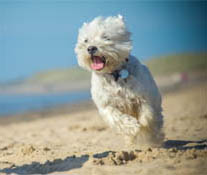 4. Red Kite Cottage, Strathpeffer, nr Inverness
Red Kite Cottage can accommodate up to three dogs, plus two or three people. Its interiors are a modern take on Highland style with open plan living and fabulous panoramic views. Located beside a 3000 year old hill fort in the heart of the Highlands, it is the perfect getaway for holidaymakers and their dogs.
5. Cruinn Leum Round House, Toscaig, near Applecross, Wester Ross
Conceived as an artist's retreat with a recording studio, Cruinn Leum Round House is perched on a hillside on the west coast, off the Applecross peninsula. Wonderful views, fabulous walks and amazing wildlife abound. Your dog will love it and it's only a short drive from the famous Applecross Inn, which is also dog-friendly.
Visit our dog friendly page to see hundreds more dog-friendly cottages all across Scotland.