Central Scotland
The central area of Scotland, covering Angus, Fife, Perthshire, Loch Lomond and the Trossachs, offers a wide and varied range of landscapes. From quiet glens, imposing mountains and attractive coasts and beaches, right through to beautiful lochs and rich farmlands. You'll find it all here, together with many of Scotland's premier tourist attractions.
Central Scotland Self Catering Cottages
No cottages match this search. Try changing or clearing the filters.
Exploring central Scotland's wonderful countryside
This area benefits from an excellent infrastructure in terms of railways, motorways and good roads, so it is possible to range far and wide with ease and take in many different areas from a single base.
As a brief guide, in Fife you have a wonderful coastline of picturesque fishing villages, incomparable St Andrews for a unique combination of history, golf and beaches and inland the likes of Falkland Palace and Kellie Castle.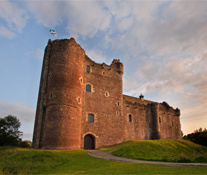 Also in the central region is Stirling with its castle, the historic battlefield at Bannockburn, the Falkirk Wheel and the stunning Kelpies structures.
Perthshire has Scone Palace and stretches up into the Highlands with a selection of breathtakingly beautiful lochs and mountains, and, of course, the legendary fishing river, the Tay. Angus boasts Glamis Castle, quiet glens, some more superb beaches (and Carnoustie for more top class golf) while further west, Loch Lomond and the lovely Trossachs speak for themselves.
Discover
The East Neuk of Fife
A picturesque coastal area with lovely sandy beaches, fishing harbours, ruined castles and plenty of golf.
Quick Links to Central Scotland